Indalgo at Future Steel Forum
Indalgo's COO Petteri Yliniemi and Development Manager Armi Korhonen attended the Future Steel Forum in Prague on June 8-9, 2022.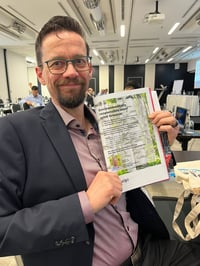 At the event, discussions and presentations revolved around Industry 4.0 and digitalization. The steel industry is actively moving towards Industry 4.0. Digitalization, working with data and machine learning models are all important components of enabling more efficient and greener steel manufacturing industry. A question that keeps coming up is how to find and keep competent people, who can realize these needs now and in the future.
Indalgo has the experience and competence to do all these things for the steel industry. Our highly competent and educated people can develop and manage the needed optimization and machine learning algorithms, so not everything has to be done in-house.
Digital Twins, sometimes called "Cyber Physical Systems", were discussed rather widely during the event. No wonder, as creating a digital twin of even parts of the steel production process can open a whole new world of possibilities. A digital twin can be used for many things from metallurgical simulations in product development to process optimization to assisting maintenance personnel. They also enable us to do things that would be too cost prohibitive or even impossible to do in the real world.
At Indalgo, we have the expertise not only in the creation of the mathematical and physical models for the metallurgical processes, but also in creation of the visual part of the digital twin, which can be used as a user interface for the data models. The user interface could be a simple web application, a mobile AR application or a 3D simulation accessed with a VR headset.
If you are interested in hearing more about the possibilities of digital twins, send us a message telling us your needs!